Lineker's fight for migrant rights and his conflict with the BBC and the Government
In a slew of poorly thought out political actions by allies of the British government, the outspoken Match of the Day Presenter was de-platformed for statements on the illegal migration bill
The French Dispatch is a reader-supported publication. If you enjoy reading this, like, subscribe, share it with your friends and colleagues, and consider taking a paid subscription.
Last week, the BBC concocted an absurd, difficult to explain, and needlessly messy situation when it removed Gary Lineker for a statement regarding government language and the general discourse in British politics surrounding migrants.
What the leadership hoped would be an open and shut HR issue instead became a nightmare, causing a huge uproar in defence of the outspoken presenter, questions about government control over the BBC, and the role of truth in the United Kingdom.
So What happened?
The British government recently introduced its new illegal immigration bill, based on a strategy intended to deal with migrants crossing the channel in small boats, which was rife with divisive language and questions.
The law intends to render the UK unattractive to migrants and refugees by making asylum claims inadmissible from those who travel to the UK on small boats. The home secretary would be responsible for removing said refugees from British territory "as soon as reasonably practicable", and sending them to either Rwanda or a "safe third country".
Those who took on this trip and attempted to "illegal" crossing would be prevented from claiming asylum in the UK, with plans to also ban them from returning once removed, or ever applying for citizenship even if they managed to do so.
Until now, most of the Government's efforts to deport migrants to Rwanda have been blocked by human rights laws, which is why the government has been attempting to find a 'legal' (with hefty air quotes) way around the impediment that is human rights.
You know, that thing that none of us really want, because who wants any protections.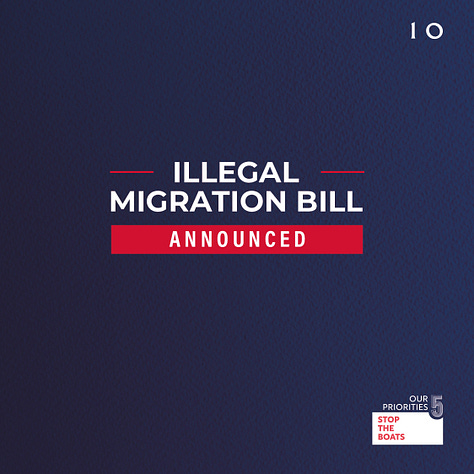 Suella Braverman couldn't confirm that the bill is compatible with the European convention on human rights. Due to the finicky finer points of British law, this could be enacted even if it's incompatible with the UK convention of rights.
To see the single-minded attitude towards this, watch the below video:
The inevitable showdown with Strasbourg and the EU aside and the paranoia that the Conservatives have towards "lefty lawyers" (Read: people who understand the law and defend human rights), the Conservatives took on an entirely pointless, self-harming fight with a British icon
In response to this message, the famously outspoken Lineker posted a tweet criticising the government policy. When he was criticised in turn, he responded to this by making a comparison to the same language used in the 1930s:
"There is no huge influx. We take far fewer refugees than other major European countries. This is just an immeasurably cruel policy directed at the most vulnerable people in language that is not dissimilar to that used by Germany in the '30s"

- Gary Lineker, 7 March 2023
This statement led to Gary Lineker being swiftly removed from his role as the lead presenter of Match of the Day, the popular TV show where Lineker and his fellow presenters discuss that day's football games, by BBC Director General Tim Davie.
This triggered a farcical snowball that led to the BBC taking a needless own-goal, a mass strike by fellow sports presenters and commentators in solidarity with Lineker. Ian Wright and Alan Shearer, two famous retired footballers who co-present Match of the Day announced they were stepping back from the show until things were put right.
Famous personalities were questioned about what they thought of their idea, with Liverpool Manager Jurgen Klopp having what I believe to be the best response to the situation:
Were his comments justified?
As the great-grandson of a Jewish man who survived World War Two, and someone who was at least taught about the Holocaust and the surrounding actions at school, I know that it's not typically desired or easy to hear comparisons to this horrifying event.
Despite Jews in Germany only accounting for around 500,000 people or 0.86% of the overall population, what we saw throughout the 30s in Germany was the othering and the expulsion of a tiny minority of the population who were treated as lesser than the "native" population, who were targeting with language that blamed that for the failures of the state, and the loss of the first world war.
We saw a progressive degradation of the rights of a subsection of human beings, such as them being banned from the civil service, government boycotts of Jewish-owned businesses, and eventually a denial of their basic civil rights.
If you would like to see examples of how this was done, the United States Holocaust Memorial Museum has an excellent video outlining just what happened on their website, and you can also see it in their video on YouTube below.
However, as many people with family backgrounds in this awful history, we should show caution when comparing this awful period, as this can be abused belittle the actual dangers of this event or the language and behaviour that leads to it.
And sadly, after decades of anti-migrant, anti-foreigner rhetoric, we've seen some horrifying events happen in the UK, such as the far-right demonstrations and violence in Knowsley, which targeted an asylum seekers' hotel back in February.
Further abroad, we saw where this kind of behaviour could lead, such as the Charlottesville "Unite the Right rally" where white supremacists, neo-nazis, neo-fascists, and other groups engaged in a violent protest.
All which drawing memories back towards the awful events of Kristallnacht.
Concerning political connections
Turning towards the situation at the BBC, the criticism for this move has been deafening, with people regularly sounding off about the outrage about this situation, and with his
With Lineker being removed from the show for breaching the BBCs impartiality rules, people have been turning their ire towards the leadership of the BBC, with several genuinely problematic things questioning the organisation's impartiality.
Without questioning to good work that the BBC does in the UK, and being entirely transparent, here are some of the problematic pieces of information that we have available to us about key actors within the BBC:
The Chairman, Richard Sharp, donated £400,000 to the Conservative Party

He also helped then-Prime Minister Boris Johnson secure an £800,000 loan

Byline Times has reported that Sharp used his personal charity, The sharp Foundation, to donate money to the Institute for Policy Research (IPR), which funds several entities that form part of the Eurosceptic right, and which calls for the privatisation of the BBC

The Director General, Tim Davie, previously stood as a Counsellor for the Conservatives

He was also deputy chairman of a local chapter of the Conservative party and maintained relations with the party

Board member, Robbie Gibb, was Theresa May's Director of Communications between 2017 and 2019 and joined the BBC Board as a non-executive director in 2021
With Tim Davie having made the call to suspend Lineker, and the ongoing culture war in the UK, it's clear that there's a problem with impartiality. You even have MPs wading into the conflict, like John Whittingdale declaring that Lineker was mounting a challenge against the Director General
"I think there may be a perception that Gary Lineker has challenged the leadership of the BBC and got away with it"
Even ignoring the combination of this information with the fact that the BBC's chairman position is a politically appointed role, you have to look at how they have treated other employees in similar situations, and it doesn't clear many questions.
There has even been some genuinely concerning behaviour from presenters like Andrew Neil, who launched a misogynistic attack on Carole Cadwalladr, who regularly broke stories that embarrassed the Conservatives and the governments of the day over topics such as Brexit, Russian interference in British politics, and other alarming issues.
And yet, much of this went unpunished.
Ignoring the political views of all involved, there's a very clear issue of, at the bare minimum, uneven application of standards or regulations for freelance presenters; at worst, a targeted effort to protect certain ideologies and actors.
A quick google will show you plenty of examples of BBC presenters having strong political views, and I recommend this article by The Guardian which covers it.
There still hasn't been any clear explanation for just how exactly Gary Lineker broke any rules, regulations or standards set by the BBC. Even looking for these rules and regulations myself, I couldn't find anything related to these rules on official documents.
But what does this mean long-term?
With Gary Lineker having won the battle, at least in the short-term, and announcing that he will be appearing back on Match of the Day in the near future, there are now questions about what happens next, and where British society goes from here.
Media independence is the bedrock of a health and functioning democracy, and for a society to be healthy, democratic, and to move in the right direction, it needs to enshrine freedom of speech and expression as a protected value.
No country can thrive or develop positively if it cannot ensure the provision of accurate, unbiased, and truthful information to the public, and to ensure that it is able to speak truth to power.
If there is genuinely political oversight or influence over the BBC and other British media, then it can't ensure this, and therefore British citizens won't be able to make informed decisions about their lives and the future of their society.
The BBC will also find itself hamstrung in its ability to complete the core task of national media organisations: keeping governments accountable. Suppose the BBC cannot hold the government accountable for its actions, policies, and decisions. What is the difference in this relationship than that in countries such as Hungary or Russia?
If media power is acting in the best interest of political actors and the interests of its leadership rather than the public, then democracy is at genuine risk.
Transparency will die an undignified death, and governments, businesses and other institutions will close the window of openness, which could encourage unethical practices, misconduct, and potentially even state corruption.
This is a slippery slope, and it keeps getting even more slippery.
Recently, some Conservative MPs decided to worsen the situation, with MP Jonathan Gullis deciding to engage in some truth-bending to claim that Gary Lineker was freely calling northerners racists, bigots and Nazis.
Something with zero evidence, but which fits nicely into the culture war narrative and the attempts to destroy confidence in politics and democracy for short-term political gain.
And if you want to read how we can ensure media freedom as societies and individual actors, subscribe to
, where I'll be giving my opinion on how we can reinforce our societies and act in the best interest of our societies.
Thank you for reading the French Dispatch! If you liked what you read, you should like this post and subscribe to the newsletter by clicking/tapping the button below:
And if you'd like to contribute a coffee or two to help fuel my coverage of the wild world of politics, feel free to click on the picture below: